The ArxLab Notebook platform allows companies to manage all incoming contract research organization (CRO) work in real time: placing experimental result data into experiments, registering small molecule or biological compounds, registering assay data, or placing materials into inventory locations.
ArxLab accommodates view only, write-only, or view-write CRO access to any client information in the system, with clients variably controlling information sharing capability among scientists within a CRO as well as across CRO organizations. CROs can sign off on work completed and internal managers can review and witness this work, as well as generate custom reports of some or all of the relevant data. Should a project or relationship end, CRO scientists can be instantly removed from either the relevant project or the ArxLab system completely, with legacy experimental data remaining intact and accessible by the client.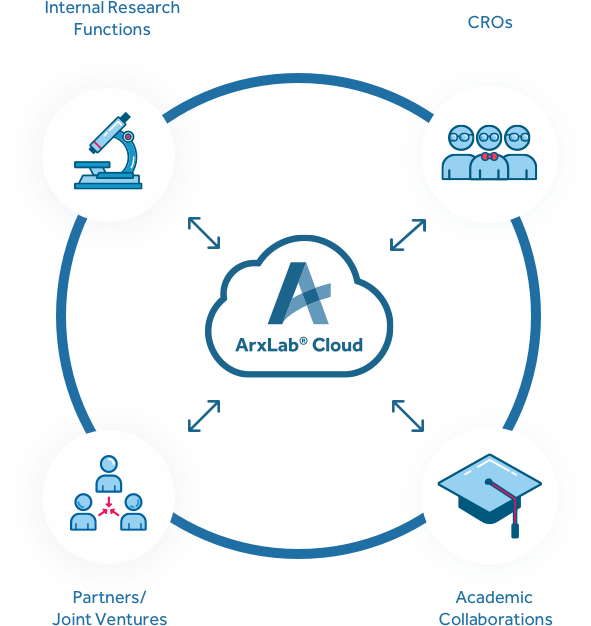 While ramping up relationships with CROs, scientific companies find that they are struggling with having informatics architecture and process that allow for optimal management of incoming CRO data. Research data curation and exchange are bottlenecks, data quickly becomes decentralized and unsearchable, and integration with in house systems for bulk import of information is cumbersome. Receiving CRO data quickly and with higher quality and efficiency, as well as being able to effectively search and share it, are important factors in the CRO/Client partnership.
Arxspan's cloud-based suite of applications can facilitate data transfer and collaboration between organizations, allowing for efficient sharing of results and reducing bottlenecks of knowledge transfer. Arxspan's straight-forward, turn-key web-browser informatics solutions eliminate the IT pain of managing external CRO data.