Product Line & Architecture
Arxspan's web-based product line of chemistry and biology tools offer simple, intuitive interface for the user. Ease of use coupled with granular, robust administrative controls for deployment, configuration and system access make these tools ideal for small, mid-size, and large organizations. Our browser-based products approach facilitates rapid deployment across an enterprise that does not require any software installation on client machines. Any device with a standard web browser is capable of accessing the Arxspan product line.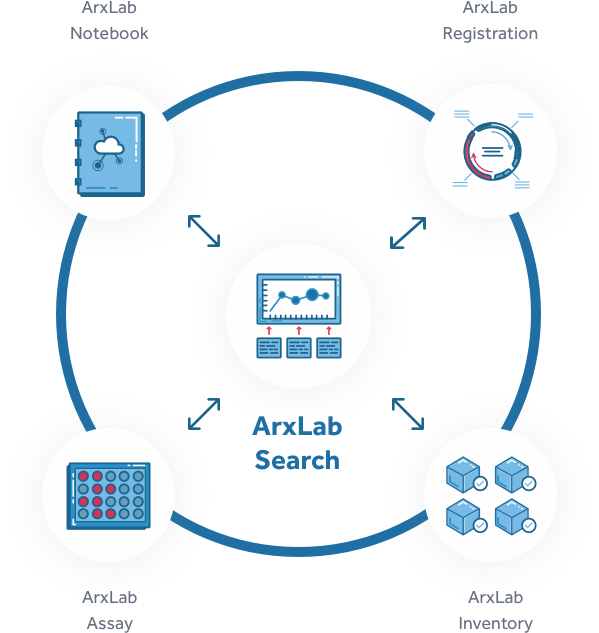 Our streamlined user interface enables one-click data entry and a fast one-click search of all visible content in the system. With appropriate system security access, users can create, access and share data across collaborative groups, all from within the default system configuration. The chemistry and biology software suites may be deployed separately or integrated.
The chemistry product suite consists of Registration to identify proprietary compounds, Inventory to track both commercial reagents as well as new compounds, and Notebook that provides a secure, searchable replacement for the laboratory notebooks used in the past. ChemDrawTM and ChemAxonTM chemical intelligence are supported for chemistry drawing and calculations. The suite integrates smoothly to provide all of the essential tools and may be securely shared with laboratories within corporations as well as CRO sponsored chemical research.
The biology product suite consists of Notebook that allows biological experiment design of new experiments as well as routine testing using experimental templates. The Notebook provides a searchable central repository of biological experiments replacing myriad independent records. Inventory tracks biologics, cell lines, plates and daughter plates as well as reagents. Assay provides for assay development, LTS and HTS screening programs, and data and result storage. The suite integrates smoothly to provide all of the essential tools and may be securely shared with laboratories within corporations as well as CRO sponsored biological screening and research.
Collaborative efforts are central to almost every modern business activity, yet the tools available to collaborators working within regulated environments rarely meet the needs of the collaborators to share and have open access to data as well as supporting full compliance with regulatory standards. Arxspan applications offer 21 CFR Part 11 compliance with full access control, access history, version control, electronic signatures, witnessing and rejection workflows, and storage of all details in perpetuity.
Hosting applications in our secure cloud environment, whether on dedicated hardware or in our ready-to-deploy multi-tenant environment, allows users to access the system from around the world and from any computing device, maximizing collaboration and productivity.
SaaS as a software delivery model has been a past concern of the scientific community because of the concerns of data security as well as a general lack of industry experience with the software model in general. In the past few years, SaaS has become an increasingly appealing model for research organizations and universities as its benefits have become clear, the need for collaboration has dramatically increased, and data security has been well-demonstrated.
The Arxspan private cloud is supported by IT experts with over 15 years of experience developing and hosting secure, web-based software application systems ranging from electronic commerce to highly sensitive market data for large and small businesses. Data is stored on multiple redundant systems in world class certified data centers and all data is transmitted using 128-bit SSL encryption. This experience, as well as our secure, world class certified data centers, makes Arxspan an ideal hosting partner.